Operational Update ~ Summer 2023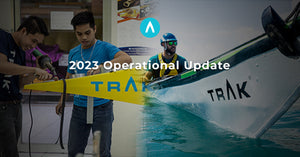 July and August Focus, 2024 Ordering Update
This summer, we have significant shipments arriving in North America, Europe and other specific regions in the next few weeks, and so we're all hands on deck in delivering those orders to our dearest customers in waiting. As of July 1, 2023 we're sold out for the rest of 2023 deliveries.
We are relieved and delighted to have all of the deliveries for the 2022 and earlier pre-orders scheduled to be complete by end of November of this year. This is the result of a major set of solutions, thanks in large part to our partners, our team and extended team, and the understanding and commitment of our community of paddlers all around the world. Thank you all, truly.
Later in the summer and fall, we will focus on reservations that remain for the earliest 2024 shipments, with production flowing and ramping up during the balance of 2023, and early 2024. 
Thanks for your commitment, orders and support. We can't wait to see these new TRAK 2.0s on the water, so keep us posted with all of your great TRAKings in the Wild content!
If you haven't gotten your order in yet, we are anticipating that window will open in late September. Sign up to Get Notified to be first in line for the first shipments in  2024.
Uniquely powerful, the TRAK 2.0 opens a new world of paddling possibilities up to novices and experts alike. Portable and performance-focused, this 16 foot sea kayak can take you anywhere.
If you're looking for experiences or gear to go with your order in the meantime, check out our Paddles, Trips and Bags, or get 10% off Sitewide at Gearlab Outdoors!
Leave a comment
Comments will be approved before showing up.