Laxmoon Unpacked with Frank Wolf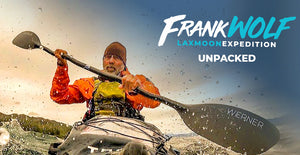 "Once I left Prince Rupert, I was all by myself. 
I didn't see a soul, not even a motorboat. Just me, the whales, waves and the wolves."
Excerpt from his ExploreMag Article
Most of my long journeys in the past have been with others. I've travelled with small teams of two to four people, working together for a common goal—the camaraderie always enriching the experience. My upcoming kayak trip will, however, take a different approach.

One thing I strive for in my journeys is simplicity—to streamline the logistics of a route down to its bare essentials. Going solo on a journey is the simplest approach of all. It's just you, your vessel of choice and the goal of moving through space and time unencumbered by the consideration that comes with having other people on a mission. It forces you inward and outward in your mental process in a way that just isn't possible with teammates.

To this end, I'm setting off on a 400-kilometre kayak journey through the outer islands of the north coast of British Columbia this May. I'm calling the journey the Laxmoon Expedition. Laxmoon means 'of the Sea' in the language of the Indigenous Coast Tsimshian people of the region, who thrived here for millennia off the ocean's bounty.
We were stoked to have Frank Wolf back at TRAK HQ in Nanaimo, BC following his 400km Laxmoon Expedition. He joined us live on June 7th sharing the story of his journey and answering our TRAK 'tribe' questions.
Leave a comment
Comments will be approved before showing up.