From bag to boat in 10 minutes.
Our flagship kayak, the TRAK 2.0 'ULTIMATE Touring Kayak' is a seaworthy 16-foot portable sea kayak that you can take with you anywhere. Tough as nails, the TRAK 2.0 can be paddled along rocky shores, in coastal environments, and on lakes, rivers and oceans. The TRAK 2.0 packs down in 10 minutes and is compact enough to fit where you need it to: in your car, on your sailboat, in your RV, in your condo, on your back, on a train, or on a plane. Anywhere. Any water.
INCLUDES: TRAK 2.0 Ultimate Touring Kayak, Rolling Travel Bag, Spray Skirt, Sea Sock, 2x Gear Floatation Bags, MX5 Kayak Lubricant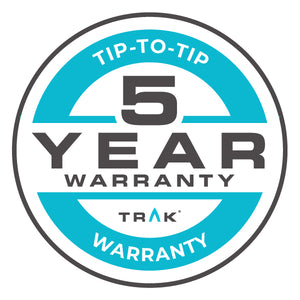 5-Year Tip-to-Tip Warranty
Our 5-Year Tip-to-Tip Warranty has you covered. If it's our fault, we'll fix it. If it's your fault, we'll work with you to get you paddling again. All TRAK kayaks are warranted against defects in materials and workmanship for a period of five (5) years from the date of purchase. Our service team is here to help with any assembly or technical questions you may have.
Reviews
4.7/5.0 CUSTOMER SATISFACTION RATING
COUNTRIES TRAK KAYAKS HAS EXPLORED: 43
IT PADDLES LIKE A DREAM!
"Congratulations to the designer for producing such a great hull shape. It paddles like a dream! Even our local gugu who's paddled everything was impressed and said it's the best."
Submitted by: Sylvain, Canada
·

5 STARS ALL ROUND
"I live in Ireland and have been a TRAK owner for 6 years. A great product, a great company with impeccable customer service, 5 stars all round."
Submitted by: Sean, Ireland
·
THIS IS A VESSEL I CAN TRUST WITH MY LIFE (LITERALLY)
"This is a vessel that I can trust with my life (literally). TRAK is a best-in-class kayak that can fit in my apartment, my car, and most importantly my lifestyle. In other words: simply the best."
Submitted by: Thomas, Hungary
·
Frequently Asked Questions
Do you offer worldwide shipping? Yes, we ship globally.
What type of kayak is this? The TRAK 2.0 is a Greenland-style skin-on-frame 16-ft. sea kayak.
What is the kayak made of? The TRAK 2.0 kayak is made from durable military-grade polyurethane, carbon fibre and aircraft-grade materials. Durable and tough for any calm or rough water environment.
When will I get the kayak? We are currently in production for a 2024 delivery, but for the latest updates and ETA on delivery please contact us!
Do you have full Details & Specifications on the kayak? Yes, you can view them here.
Do you have videos explaining how to assemble the kayak, pack up the kayak, care instructions, and videos on how to get the most from this kayak? YES! We have a vast library of free resources for you to maximize the value of this boat.